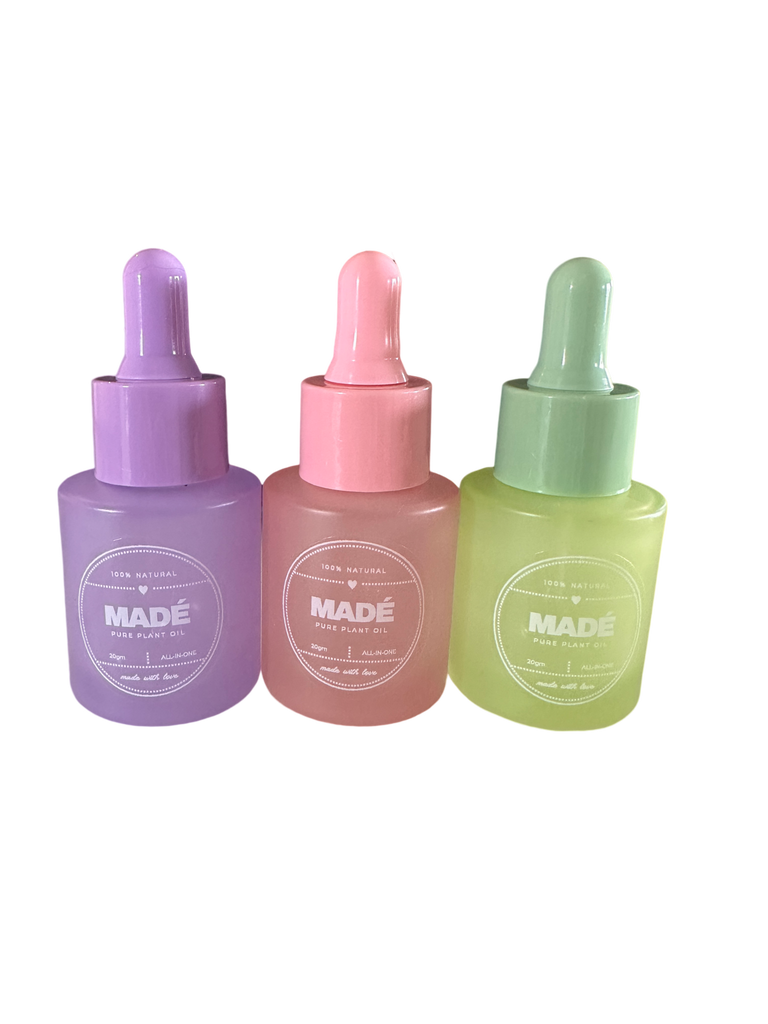 MADÉ Pure Plant Oil
A carefully curated blend of natural botanical oils, this nutrient-rich formula is packed with protective antioxidants and nourishing omega fatty acids.
Below the surface, these high-potency ingredients work to fight fine lines and wrinkles, fade dark spots and soothe redness and irritation, for skin that feels instantly revitalised and beaming with a long-lasting radiance.
100% Natural
KEY INGREDIENTS
Prickly Pear seed oil is high in essential fatty acids, omega-6 and 9 and amino acids, this hydrating, anti-inflammatory and barrier-boosting wonder oil has one of the highest levels of vitamin E of any botanical source, also rich in vitamin K and zinc to assist with fading pigmentation.
Jojoba seed oil offers anti-inflammatory benefits, this hydrating and antioxidant-rich oil is best known for its ability to enhance the skin's barrier-repair properties.
Grape seed oil is rich in linoleic acid and vitamins C, D and E plus a concentrated amount of essential fatty acids, which assist in fighting the appearance of fine lines and wrinkles.
Olive Squalane is an essential ingredient for skin products where a regenerative effect is desired. Young skin produces sufficient levels when it's young but as we age the levels drop considerably and this may be responsible for many of the signs of ageing skin such as the tendency to become thinner and damage more easily. 
Jasmine, the 'king of oils' evens skin tone, reduces pigmentation and nourishes dry and irritated skin, it is also can help to slow down the process of developing wrinkles, as it helps your skin to produce a healthy level of collagen.
Neroli oil conditions all skin types and is particularly suited to sensitive, mature, dry or irritated skin. It can stimulate skin regeneration and protects against scars and stretch marks.
ALSO CONTAINS
Hemp Seed Oil:  decreases inflammation and irritation
Kiwifruit Seed Oil:  high concentrations of omega 3 fatty acids maintains moisture in the skin and keep skin smooth and firm
Mandarin Oil: helps to even out the skin tone 
Sativa Oil: supports the skin barrier, quells inflammation and minimises breakouts
Squalane: helps to replenish the natural levels in the skin and can help to restore a more youthful appearance.
Free from all the usual nasties: parabens, petroleum, phthalates, formaldehyde, palm oil, SLS,  LES, TEA, DEA
20ml glass bottle